Once again just when I think Mother Nature is a pain in the butt, she shows that she has a small amount of mercy. Cycle 9 was one of my strangest but shortest cycles to date. 22 days! Sure it was unfortunately another anovulatory cycle but wow, 22 days.
Today I went in for my repeat cyst check ultrasound, and I felt so nervous in the hours leading up to the procedure this morning. Luckily the nerves were put to rest as the 2 cysts which spoiled our treatment in Cycle 9 are GONE!! Which means we have the green light on starting up medication again.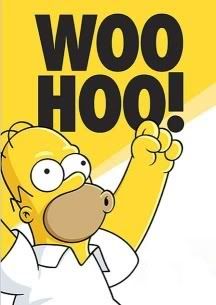 Source: Photobucket

My bag o' fun this time includes:
.5mg Dexamethasone from now until cycle day (CD) 14
50 mg Clomid, CD 3-7
A box of ovulation predictor sticks for use starting CD 11
1 shot of Pregnyl HcG trigger
50 mg Progesterone suppositories to be used twice a day during the two week wait.
Funny thing is my mid cycle ultrasound to check my response to the medication and the growth of follicles is scheduled for Easter morning. I'm sure we can draw all kinds of symbolism from that, so far I've come up with:
Hopefully this means my "baskets" will have some good eggs.
Maybe this is where my fertility will be resurrected from the dead.
Is the ultrasound wand the Easter Bunny of my uterus? He better bring me lots of goodies.
What an appropriate way to start off
NIAW
.
Buckle in tight because this crazy ride is on its way once again.